The Alpe d'Huez White Valley ("Vallée Blanche") !
A wild route for an unforgettable descent ! You are at ease on every slopes ? Come and discover the beautiful Grand Sablat glacier itinerary, in a high and wild mountain area.
The descent starts from the Pic Blanc at the top of the ski lifts, with 2000m drop of pure pleasure.
Along the large routes or by one of the differents variants, this wild itinerary will bring you to the charming village of Clavans.
From here, in the beautiful Ferrand Valley, we'll finish the adventure by a quiet taxi or ski touring return to the resort, before getting by to the liveliness of Alpe d'Huez. However you might prefer to extend this peaceful moment with a lunch break at the very pretty Savel inn, in the center of the village (lunch deal approx. 30€).
After a nice lunch, your mountain guide will drive you to discover a new route, adapted to your level and snow conditions in the afternoon : few hidden spots are waiting for you to glorioulsy at sunset ...pure magic !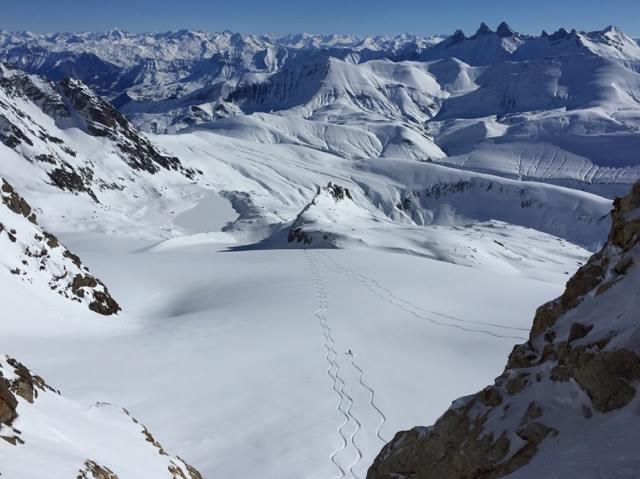 Level : discovery - intermediate - expert
Public : Each person at ease on black slopes. Route accessible for children (with conditions)
Difficulty : no technical difficult
Denivelation : D- : 2000m
Timing : full day
Period : During the entire season ! Powder snow at the heart of the winter and very nice spring conditions towards the end of the winter
Loan of safety equipment : DVA, shovel, probe


PRICE :
130€/pers for the full day (Loan of safety equipment inc.)
based on 3 people min.



You need to be at least 3 people : however, if not, we'll take care of putting a group together for you !
Do not hesitate to contact us !